Rodeo Royalty
Rodeo Queen's are the ambassadors for the sport of rodeo.
Congratulations 2023 Rodeo Royalty
Congratulations 2023 Rodeo Royalty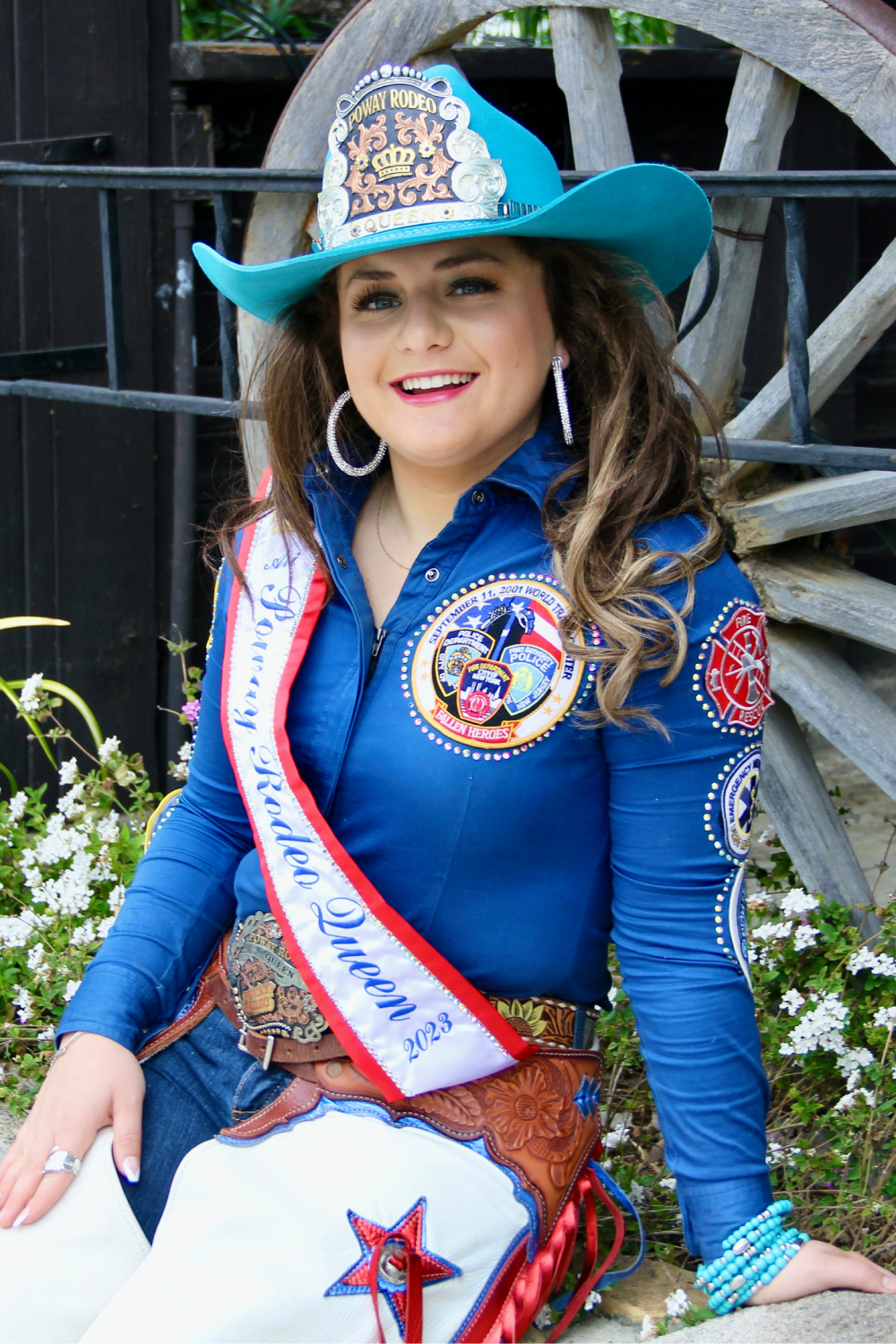 Ari Klotzkin is a 17 year old who lives on her family's ranch in Poway. She has six horses, goats, chickens, cats  and more. In her free time she travels around Southern California barrel racing. She has gone as far as Las Vegas Nevada with her barrel horses Chevy and Camaro. Recently she won a Wildcard at the NBHA barrel race that will allow her to compete at the next level. One of her other favorite things to do is travel. This summer she was lucky enough to travel to New York,  New Jersey, and Puerto Vallarta.
Ari is a freshman at Palomar College who is majoring in animal biology. Her plan is to transfer to UC Davis for her Junior and Senior year and eventually go to school to become a large animal equine veterinarian.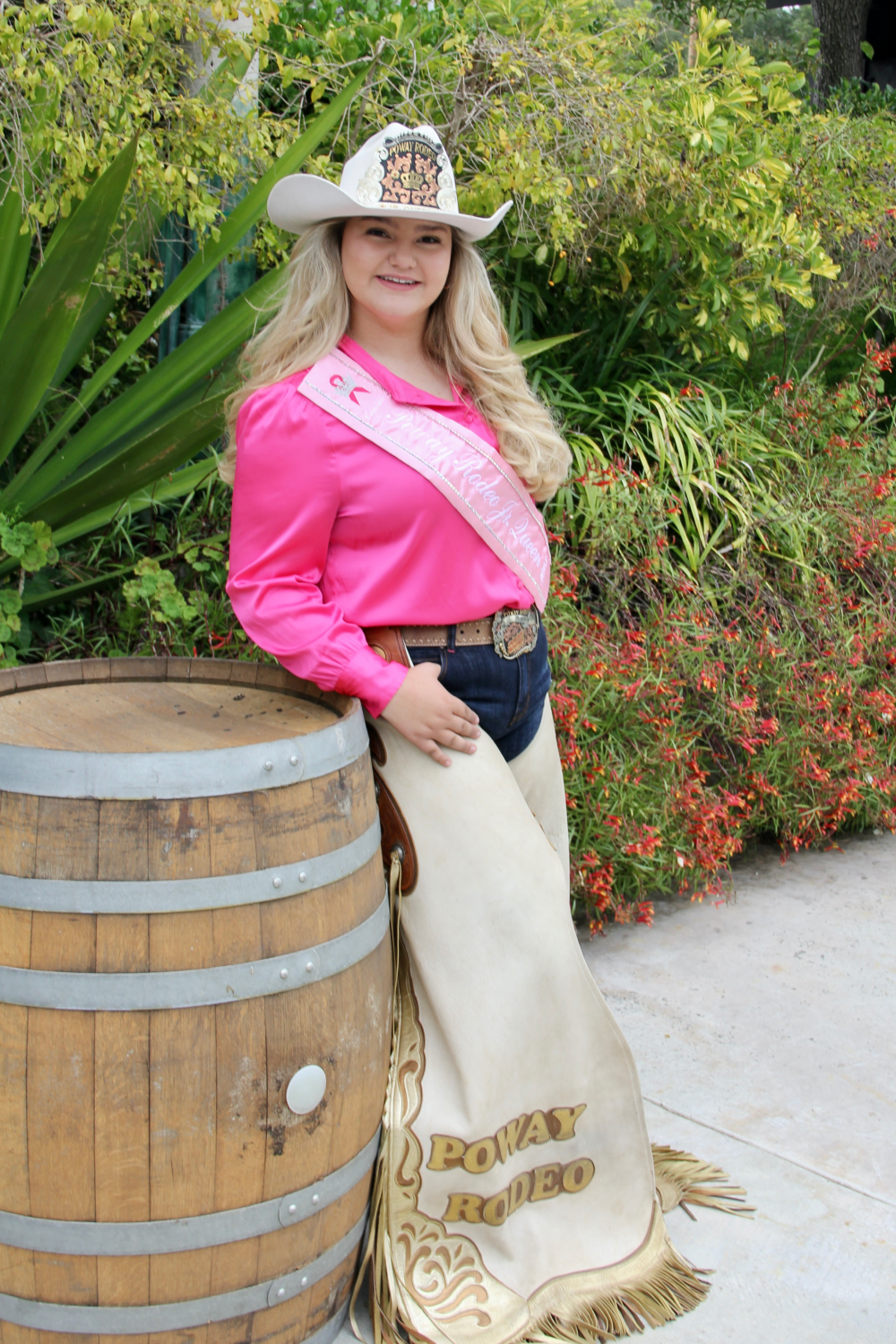 Cammie is a country girl who loves all things riding and Rodeo. Cammie discovered her great passion for horses at an early age, and it has become her life! She has won buckles and trophies on her beloved Pinto "Kitty" and competes in rodeo events, gymkhana and barrel racing on her powerful and spirited Quarter horse "Lola"! Cammie's pet project is providing Animal Assisted Therapy to those with Developmental Disabilities. Her program is "Critters for Courage" which provides therapy by working with her miniature horses, ponies, goats, and even chickens. This project promotes confidence and self-esteem for those in need. Cammie wants to be a Child Therapist to help young kids in tough times, but in the meantime, she'll be doing her barn chores, competing on her horses, enjoying rodeo, and living her dream!!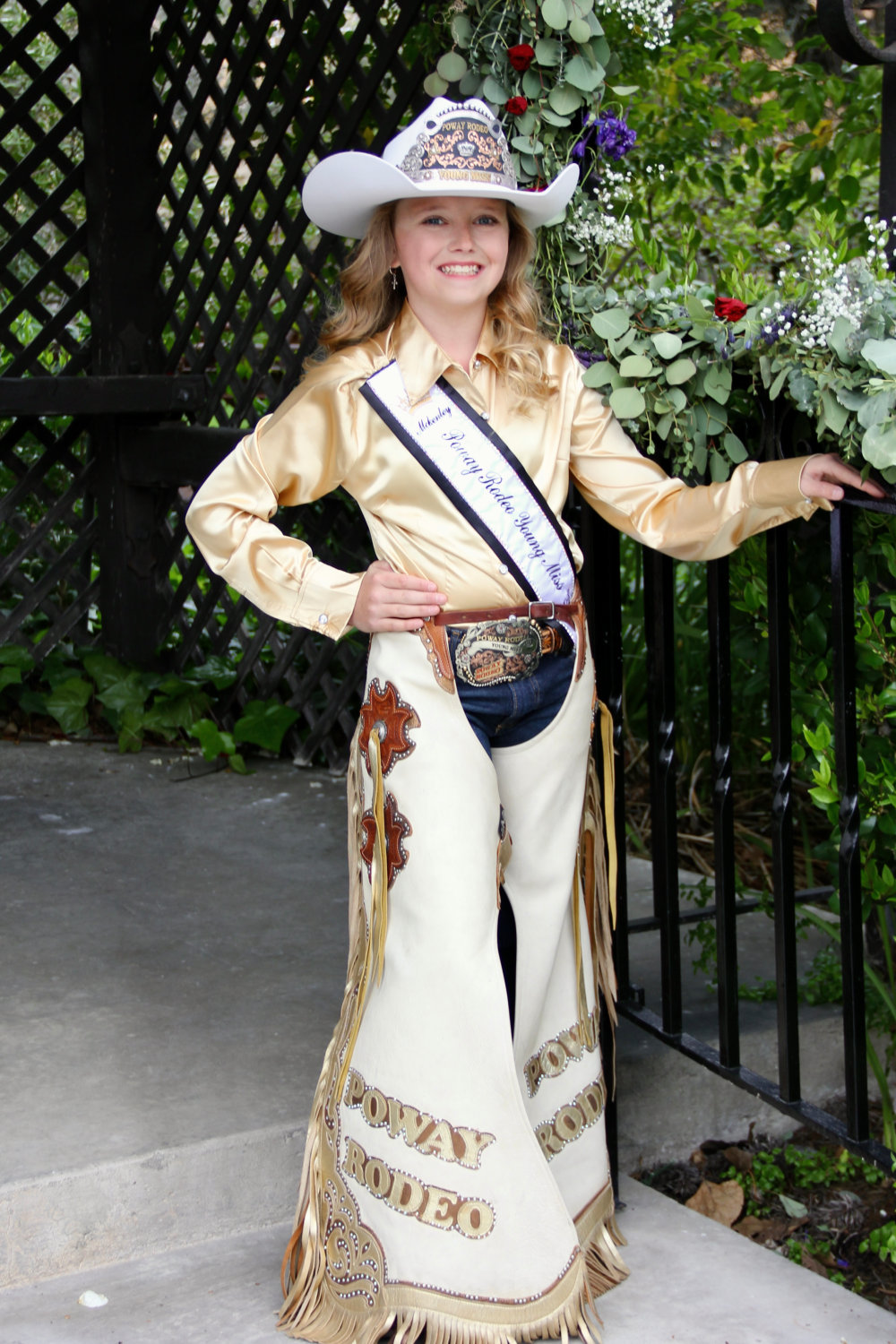 Mckenley Hunt is 11 years old and she is your 2022 Poway Rodeo Young Miss. One of her favorite things to do is to be in a rodeo arena, running barrels on her Palamino quarter horse named Fancy, or waving to the crowd. She loves to hang out with friends, family and of course her animals. She likes to play outside, ride her horses and of course play in the dirt. One of her favorite parts of being a rodeo queen is sharing her love of rodeo with all the families in the crowd. She enjoys going on foot and seeing all the kids having so much fun. For sure, one of her favorite parts is riding, but one other amazing part is encouraging kids to never give up. It has been an amazing opportunity to represent Poway Rodeo as your Poway Rodeo Young Miss.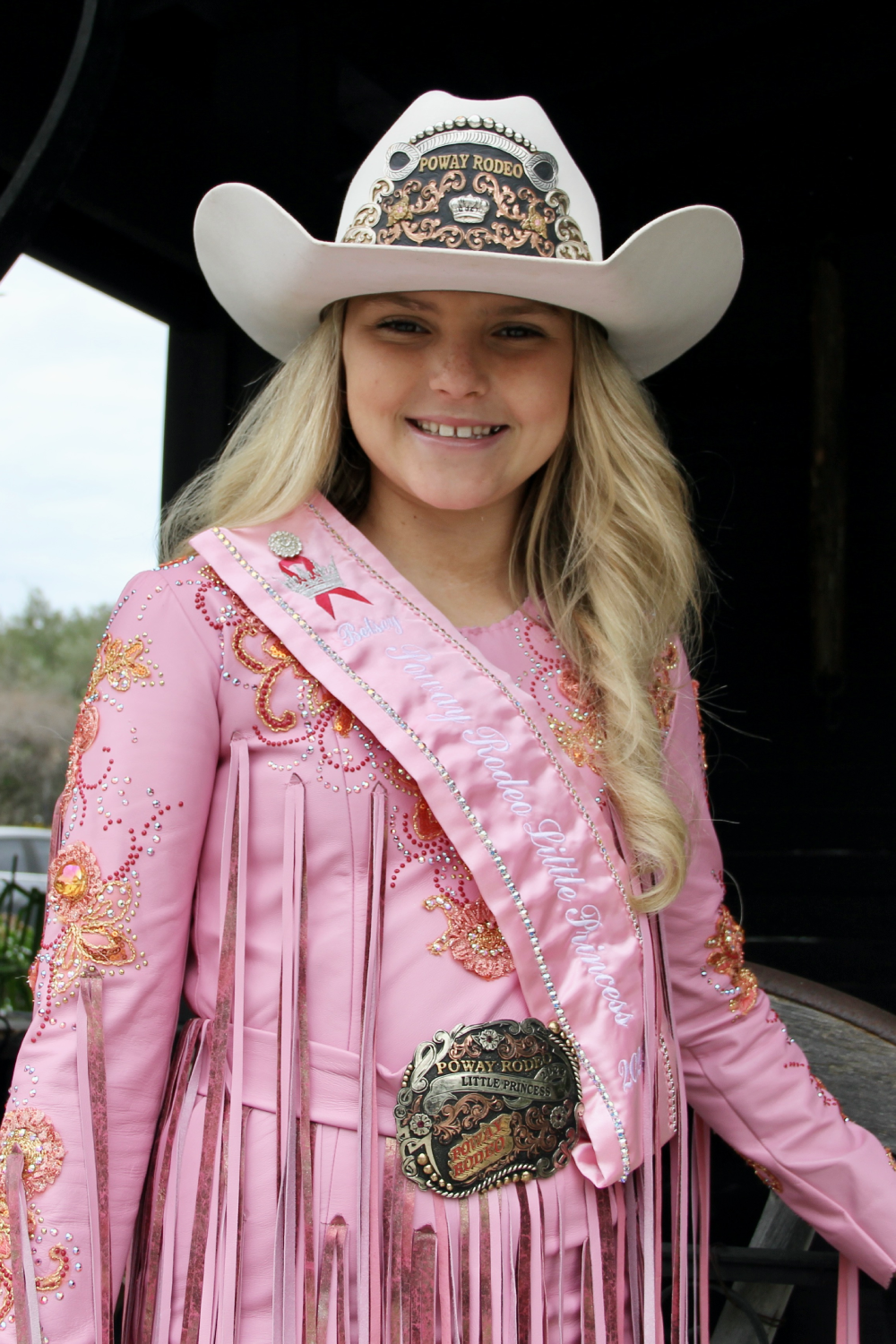 Betsey Baum is a small-town girl who loves God, family and all things Rodeo. She serves her hometown community by volunteering and raising money for Rady's Children's Hospital, SD Foodbank, and Critters for Courage.
Betsey's family is a huge troop of 8 and is dedicated to being each other's biggest fans! Betsey loves racing around the barrels with her Quarter horse "Soda", and the two can't wait to start Jr. Rodeo. She's a proud owner of a fiery Appaloosa named "Wild West" and has a passion for horse shows. Betsey is a member of PVRA and Tumbleweed Riding Club. When she's not in the arena, you'll find her on the ranch tending to her chickens, goats, turkeys and 2 mini horses. When Betsey grows up, she's determined to reach for the stars and become Miss Rodeo California! Betsey is so honored to be "Poway Rodeo's Little Princess" and can't wait to represent the Poway Rodeo and the Western Way of Life!
2024 Rodeo Royalty Pageant
Poway Rodeo Little Princess Candidates ages 8 – 10
Poway Rodeo Young Miss Candidates ages 11 – 12
Junior Queen Candidates ages 13 – 16
Queen Candidates ages 17 – 23
Weekly meetings are required to help prepare the girls for the pageant. 2024 dates to be announced soon.
Rodeo Queens are the spokeswomen for the sport of Rodeo and the community. Knowledge of the sport, poise and horsemanship are all essential skills for this important job. Each year the Poway Rodeo holds their Rodeo Royalty Pageant to choose their ambassadors. The Pageant is made up of three categories: Personal Interview, Horsemanship and Public Speaking. Each contestant will be tested on their knowledge for equine, rodeo facts and current events during a private personal interview. During the horsemanship competition, each contestant will display their riding ability while performing a designated pattern and presentation run for the judges.  Additionally, they will be quizzed on their knowledge of horse science, tack and terminology. During the final public speaking competition, the contestants will display their speaking skills, model, and answer impromptu questions on stage. During the entire competition each contestant will be judged on personality, goals and poise in hopes of choosing the most qualified ambassador for our sport.
Poway Rodeo Weekend Schedule
Poway Valley Riders Association Arena
14336 Tierra Bonita Road, Poway, CA
Friday, September 22
7:30 pm Rodeo Performance
Saturday, September 23
1 pm Rodeo Performance & Kids Buck Day
7:30 pm Rodeo Performance
After Party
Friday & Saturday
10:00 pm - 12:00 am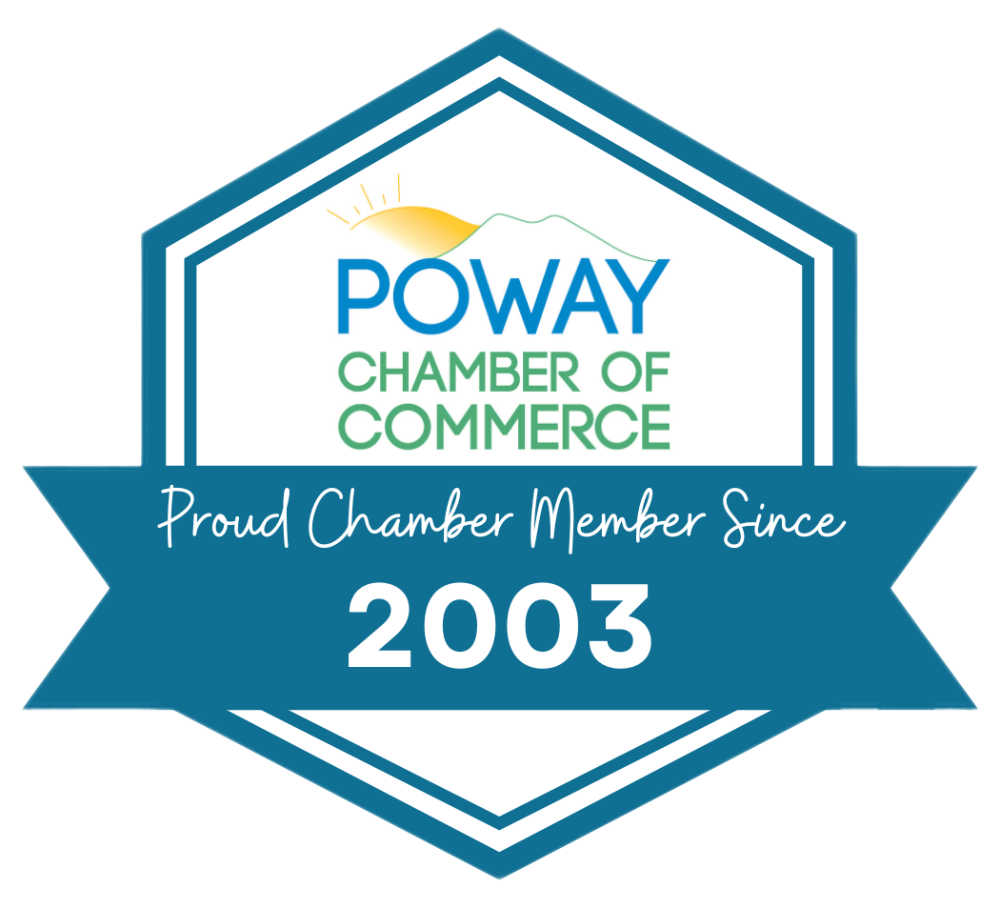 Get In Touch
Have questions? Send us an email and one of our volunteers will get back with you shortly.